When thinking of what to do when in Denver, it may be easier to think of what not to do because of the plethora of options. Things you can't do? Unfortunately, there's no outdoor skiing in the city, but it is indoor! If it's winter, you may want to avoid the rivers, but the bike paths next to them are always clear so you can get your workout in. Denver is full of history just begging to be learned. Did you know Denver has a surprisingly high number of federal jobs? That dates back all the way to when the city was growing due to the gold rush. The city's layout was designed by the same architect as the designer of Central Park! As one of the fastest-growing metropolises in the country, Denver has plenty to offer.
1. Explore Larimer Square
Photo courtesy of Geoff Livingston via Flickr and can be found here.
Larimer Square is the epicenter of Denver's culture. Lit up 365 days of the year, this downtown area has tons of locally-owned restaurants and shops to visit. It is Denver's oldest and most historic block and often has different decorations hanging up, from Colorado flags to a banner pronouncing the Super Bowl Champion Denver Broncos. You'll find a one-of-a-kind life there, no matter the time of day.
2. Shop 16th Street Mall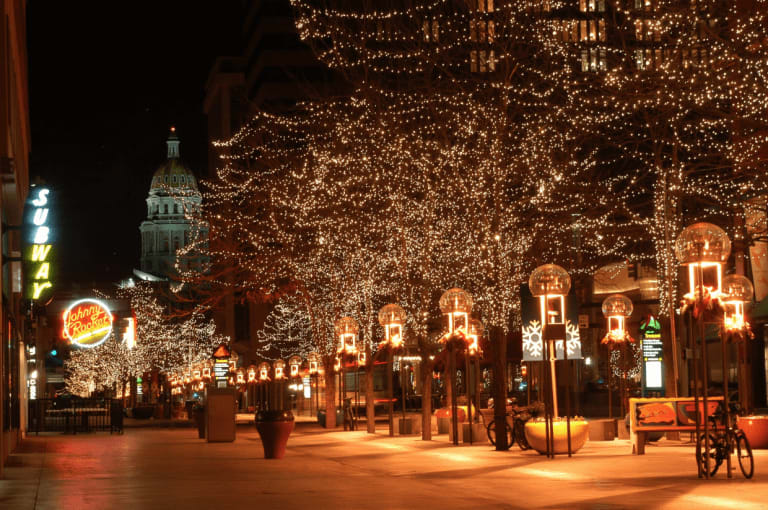 Photo courtesy of Pcharles from Wikimedia and can be found here.
The first thing you might notice about the 16th Street Mall is that it doesn't look much like a mall. Well, that's because it's all outdoors! Spanning nearly a mile and a half, 16th street in downtown Denver is lined with shops, restaurants, theaters, you name it. Worried about all of the walking? The Free Mall Ride offers transportation across the area. Feeling the urge to start playing the piano? Luckily the mall has some to offer. Just sit own and play!
3. Check Out the Zoo

Photo courtesy of Matt on Flickr and can be found here.
No matter the time of the year, the Denver Zoo always has something to offer. Is your child really into animals? Then perhaps a summer camp at the zoo would be popular. Or maybe you want a peaceful walk looking at holiday lights in the shapes of animals, just make sure you bring a jacket. The zoo also has countless species of animals, including large cats like lions and tigers, a building full of snakes and insects, another full of fish, and the list goes on. You can't go wrong with a visit to the zoo!
4. Go on a Brewery Tour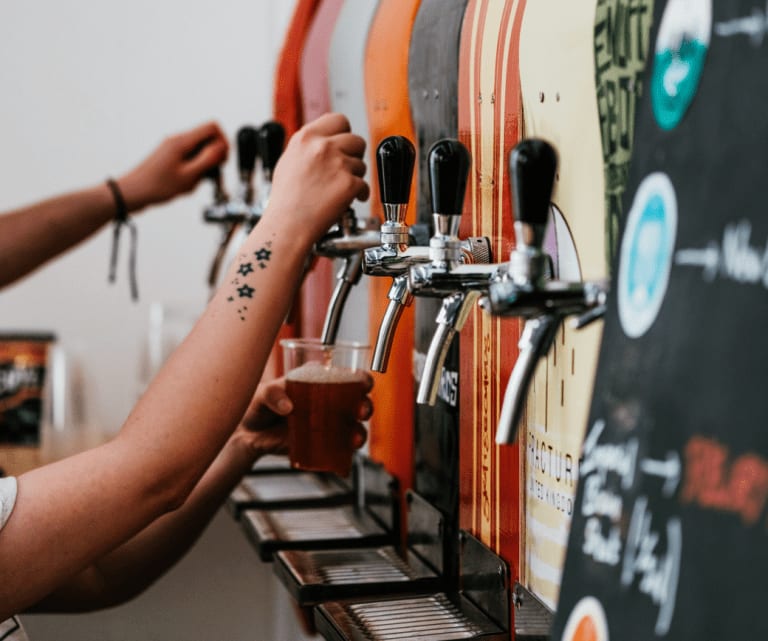 Colorado is known for its breweries, and Denver is no exception. With nearly 50 local breweries the options are limitless. In events like the Tour de Fat and the Summer Brew Fest, there is no shortage of options. The city of Denver even published a beer trail to travel. Just remember to be responsible!
5. Visit the Museum of Nature and Science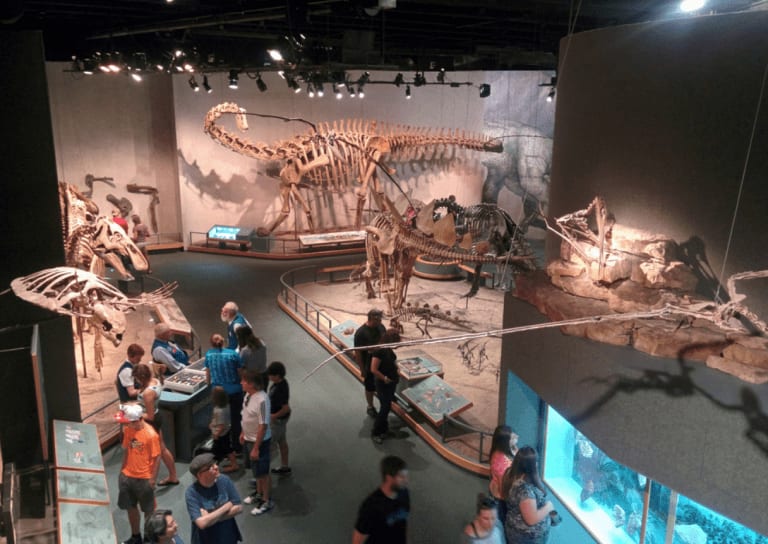 Photo courtesy of Sporst on Flickr and can be found here.
If you can learn something new every day, then you can learn 100 new things in one day at the Denver Museum of Nature and Science (DMNS). The museum has multiple levels of exhibits, with the building overlooking City Park and the beautiful city skyline. Learn all about space, dinosaurs, rocks, animals, the human body, native tribes, and the list goes on. And don't forget about the traveling exhibit that stops by for a couple of months on anything from the Titanic to the Dead Sea Scrolls. No matter your interest, the museum has got it.
6. Have a Blast at an Amusement Park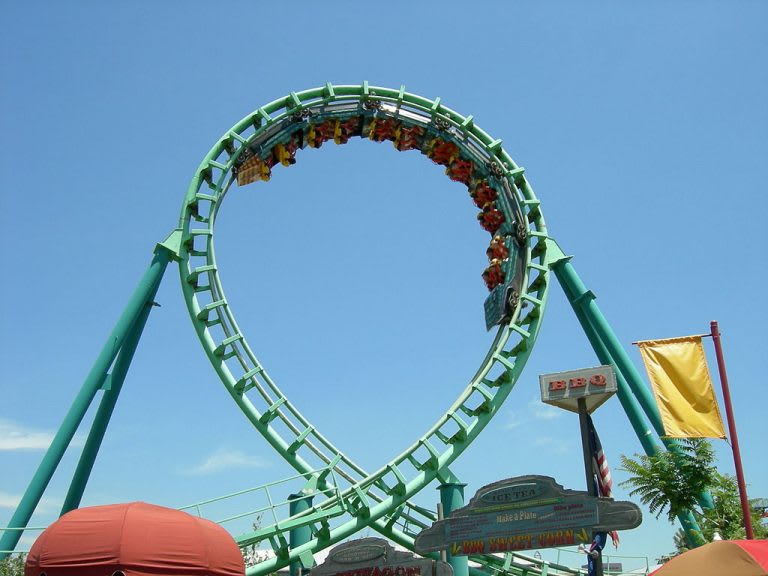 Photo courtesy of Wikimedia user Bgtbbum and available here.
Denver offers a couple of awesome amusement parks. The first is Six Flags at Elitch Gardens. This is a modern park with many new and classic roller coasters as well as other attractions. The season pass is a bargain for adrenaline junkies.
The other park is Lakeside, which is more of a classic amusement park. It features more classic roller coasters and can be more affordable than Elitch's.
7. Go to a Sports Game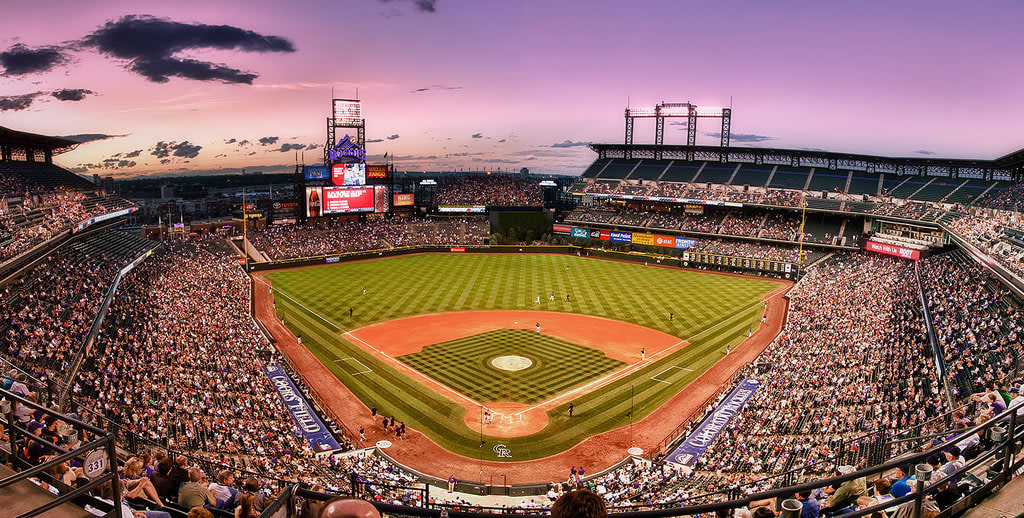 Photo courtesy of Max and Dee Bernt and available here.
Denver is home to many professional sports teams. That includes the Rockies, Broncos, Avalanche, Nuggets, and others.
One of our favorite pastimes is attending a Rockies baseball game at Coors Field. But all of the other teams offer wonderful experiences as well.
8. Visit Union Station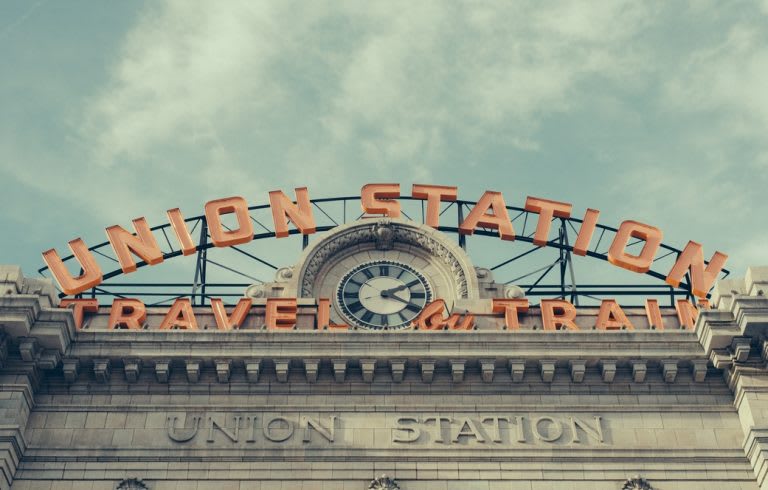 Recently remodeled Union Station is way more than a train station and transportation hub. It features outstanding restaurants, bars, an ice cream parlor, and a delightful hotel.
Union Station has developed into a classy venue for grabbing a drink, congregating in a nice environment, and even playing a little shuffleboard.